Custom Roll Forming
In operation for more than a century, Corrugated Metals, Inc. is an industry-leading manufacturer of custom roll formed metal products. Our deep understanding of corrugated metal production methodologies enables us to engineer premium quality; value-based solutions that help customers meet their business objectives.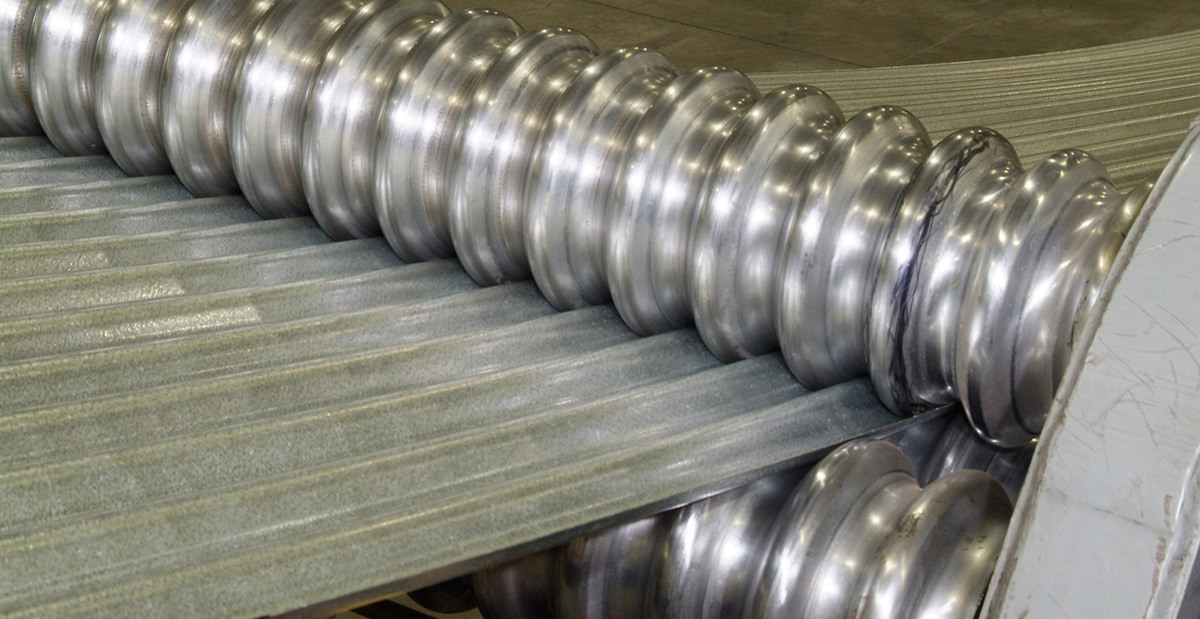 Tight planning, strategic sourcing of prime materials, and optimized production processes enable us to deliver roll formed products dependably and at a very competitive price point.
Utilizing certified raw materials sourced from a strong network of trustworthy suppliers, we manufacture products from varied grades of light- to heavy-gauge aluminum, steel, copper, and zinc with a diverse range of finish options. We are ISO 9001:2015 registered, and quality technicians inspect every product for gauge, length, width, coverage, surface quality, and squareness to ensure consistent adherence to tolerances as close as ±0.005". We offer some of the widest panels in the industry — up to 63″, and lengths in excess of 90' are readily achievable.
As a private, family owned-business, we establish trusted relationships with our clients and are committed to meeting their production goals. Our engineering team evaluates all designs and may suggest modifications to improve the manufacturability of the desired cross-sectional profile. We are extremely agile and accustomed to adhering to the most demanding production schedules. Contact us to today to learn more about how our outstanding custom roll forming capabilities can become a valued asset to your organization.
CUSTOM ROLL FORMING SPECS
Fabrication Method
CNC Roll Forming Machines
Materials
Aluminum

3004, 3003, 3105, 5052, 5083, 7075, 3004/7072, Alclad

Steel

Hot-Dip Galvanized Steel, CRCQ (Cold-Rolled Commercial Quality) Steel, Hot-Rolled Steel, Stainless Steel (most types), Aluminized Steel, T1 and T2 Steels

Copper
ASTM A606 Weathering Steel
Zinc
*Other Materials Available
Aluminum Finishes
Bare (Mill Finish)
Stucco Embossed
Painted (Any color subject to code)
*Other Aluminum Available
Steel Finishes
Bare
Painted
*Other Steel Available
ASTM A606 Steel Finishes
Naturally Oxidized
Paint Systems
Kynar
Siliconized Polyester
Vinyl Plastisol
Width
Up to 63″ for strip width
Length
12″ to 90′


Longer Upon Request

Material Thickness
0.015″ to 0.125″


Heavier Upon Request

Pitch
Up to 18″
Tolerance (+/-)
± 0.005″
Straightness
ANSI Standards for Camber


5% Diagonal Variance Over the Length of the Sheet

Testing
CCoverage
Gauge Thickness
Length
Pitch
Squareness
Surface Quality
Thickness
Width
Documentation Provided
Curving
Cutting to Length
Design Assistance
Embossing
Perforating
Press Braking
Slitting
Toll Processing
Warehousing/Containerized Shipping
Products
Conveyor Covers
Disaster Relief Facilities
Forage Boxes and Wagons
Frocking Tanks
Hush Houses
Lagging
Metalith™ Products
Roofing and Siding
Roofing and Wall Panels
Side Walls and Roof Panels
Support Panels
Trailer Walls
Railcars
Sound Walls
Self-Storage
Parking Garages
Solar/Energy
Lumber Dry Kiln Plants
Pulp & Paper Plants
Steel Mills
Boiler Plants
Power Plants
HVAC
Trailers
Point of Purchase Displays, Signs and Fixtures
Cokemaking Facilities
Retail Designs
Awnings
Flare Fences
BAC1491-70
Production Volume
1000 lbs to 25 million lbs
Low Volume
High Volume
Large Run
Long Run
Large Scale Production Volume Run
Typical Lead Times
Standard Items: 2 – 3 Weeks
Specialty Items: 6 – 8 Weeks
Dependent on Material Specifications and Mill Lead Times
ADDITIONAL INFORMATION
Column 1
Column 2
Industry Focus
Aerospace
Agriculture/Agricultural Equipment
Airline
Architectural
Construction
Container
Export
Fiber Glass
Freight Car
Gas & Oil
Government
Livestock Trailers
Marine
Military
Mining
NASA
Office Buildings
Passenger Car Manufactures
Power Plants
Steel Mills
Transportation
Truck/Trailer
Industry Standards
ASTM
ISO 9001:2015
File Formats
AutoCAD (DWG, DWZ)
Autodesk Revit
PDF

Have questions?
Please fill out the form to contact us or call us at 1-800-621-5617.